Gratis Microsoft Windows Alternatieven
Microsoft Windows is wereldwijd het meest gebruikte besturingssysteem. Een besturingssysteem wordt direct na het opstarten van de computer in het geheugen geladen en maakt het mogelijk om andere softwareprogramma's uit te voeren.
Op deze pagina geven we een overzicht van goede gratis alternatieven voor Microsoft Windows.
Ubuntu is een open source besturingssysteem dat wordt ontwikkeld door de Ubuntu-community. Dit alternatief voor Microsoft Windows is gebaseerd op GNU en Linux software.
Ubuntu is geschikt voor desktops, laptops en servers. De standaard installatie bevat noodzakelijke applicaties zoals: een webbrowser, een officepakket, een e-mailclient, chat-software, virtualisatie-software, mediaplayers, etc.
Ubuntu bevat standaard de volgende toepassingen:

officepakket - LibreOffice
e-mail, agenda en adresboek - Evolution
muziek, video en foto's weergeven
duizenden andere softwareprogramma's die met slechts een paar muisklikken te installeren zijn
Ubuntu screenshots
Website van de makers van Ubuntu
website van Ubuntu direct naar Ubuntu download pagina
Google Chrome OS is een open source besturingssysteem. Het programma is gebaseerd op de Chrome webbrowser en de Linuxkernel. Het systeem is lichtgewicht en start snel op en is daarom met name geschikt voor netbooks.
Google Crome OS heeft de volgende kenmerken:

gratis alternatief voor Microsoft Windows,
is gericht op het gebruik van webapplicaties in plaats van traditionele applicaties,
vooral gericht op het gebruik met netbooks.
Google Crome OS screenshots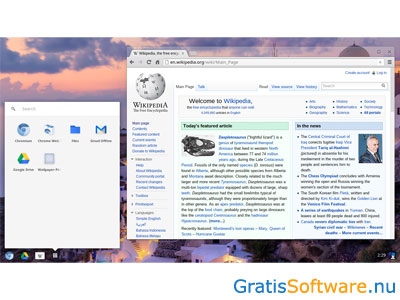 Website van de makers van Google Crome OS
website van Google Crome OS direct naar Google Crome OS download pagina
Het openSUSE-project biedt alles voor zowel de softwareontwikkelaar als de enthousiaste Linux-gebruiker om met Linux aan de slag te gaan. Het gratis en open source besturingssysteem Linux vormt de belangrijkste concurrent voor het betaalde Microsoft Windows. De ontwikkeling van het openSUSE besturingssysteem wordt gesponsord door Novell.
OpenSUSE heeft de volgende kenmerken:

Beschikbaar in het Nederlands
Desktop omgevingen: KDE 3.5.5; GNOME 2.16.1; Xgl - 3D acceleratie
Office Software: Apache OpenOffice 2.0.4; Desktop search Beagle 0.2.10. Catalogue database: Tellico 1.2.3. Personal information manager: Evolution 2.8.1, Kontact 3.5.5; wine 0.9.24
Internet en E-mail: Voice over IP (VoIP): ekiga 2.0.3, Linphone 1.3.0, Twinkle 0.9 NetworkManager. Peer to peer clients Bittorrent en Ktorrent. Web browser: Firefox2.0, Konqueror, SeaMonkey. E-mail: Evolution 2.8.1, Kontact 3.5.5, Thunderbird1.5.07. Instant Messaging: Kopete 0.12.2, Gaim 1.5
Grafisch: Image manipulation programma: GIMP 2.2.13; 3d construction: ARCAD, 3D CAAD program. Vector illustration: Inkscape 0.44. Foto management: F-spot 0.2.1, gwenview 1.4., dikigkam 0.8.2
Multimedia: Banshee Music management 0.10.12, AmaroK 1.4.3; wink 1.5 Tool for creation of software tutorials. Music and video player: RealPlayer 10.0.0, kaffeine 0.8.2. CD/DVD burner: k3b 0.12.17. Video Editor: MainActor5
Mobiliteit: Verbeterde Wifi ondersteuning: Networkmanager 0.6.4; Enhanced Bluetooth support; Improved syncing through opensync; External Monitor support; Verbeterde power management; Support for docking stations
Database Management Systeem: PostgreSQL 8.1.4; MySQL 5.0.24; Derby 10.0.2.1
Ontwikkelingsomgevingen: Mono 1.1.17; KDevelop 3.3.5; Eclipse 3.1.1. Languages: Ruby 1.8.4; Perl 5.8.8; Python 2.5; PHP 5.2; Java 1.5
Veiligheid: Intrusion prevention: AppArmor 2.0; Intrusion detection snort 2.4.5; Virus scanner: AntiVir 2.17; Spam filter: SpamAssassin 3.1.4
Systeem componenten: Linux Kernel 2.6.18; GCC 4.1.3; glibc 2.5; X.Org 7.2; XEN 3.0.3 for Virtualization. Networking services: Apache + Apache Geronimo 1.1, CUPS, Samba, NFS, DHCP, DNS; Multicore processor support
OpenSUSE screenshots
Website van de makers van OpenSUSE
website van OpenSUSE direct naar OpenSUSE download pagina
Op de website van de ontwikkelaars van deze gratis software kunt u meer informatie vinden en kunt u de software downloaden.